THE BAJA EMERALD is now available on iTunes, Audible audio books and Amazon.
This erotica romance thriller from authors Dusky LeRock and Skye LeRock is a explosive fast-paced action-packed erotic "Livin' the Vida Loca!" thriller set in Carbo San Lucas.
Will Edwina "Eddy" Destiny the heroic Detective Inspector from INTERPOL solve the mystery case and find The Contessa Del Castello?
Will Eddy's steamy-hot insta-love passion for David Cole blossom into an electrifying romance?
Will the Tres Amigos, alpha males groan and growl into her quaking embers or will flames on a hot fire explode till she begs for an explosive submission?
Who will ride the raging bull?
This delicious, erotica romance thriller narrated by Roberto Scarlato will make you laugh, sing, dance and reach for an Ice-cold drink to calm your raging passion.
Passionate fiery moments laced with burning hot action and thrilling rides will have you panting for more.
"An explosive adult read to get the blood flowing masterly done by Roberto Scarlato."
We recommend this audio book for hot tingling bedtime reading, or on the beach, sipping a Mojito on a lazy quiet afternoon.
The exquisitely no holds barred smut is explosively descriptive.  The action hot and steamy, sets the mystery of the missing Baja Emerald into electrifying action.
⭐⭐⭐⭐⭐  Getting my erotica fix!  By Avid Reader ⭐⭐⭐⭐⭐
"If you want to read a story about a hot blond "Livin' the Vida Loca!" then this story fits the bill."
Nothing like hot sex in an exotic location with multiple partners. The hottest Dusky & Skye title I've read! Getting my erotica fix from this author."
?????  Free erotica online  ??? ??
?  Listen to an Audible book free on us The Baja Emerald  ?
https://www.audible.com/t2/title?asin=B07BN6GPYL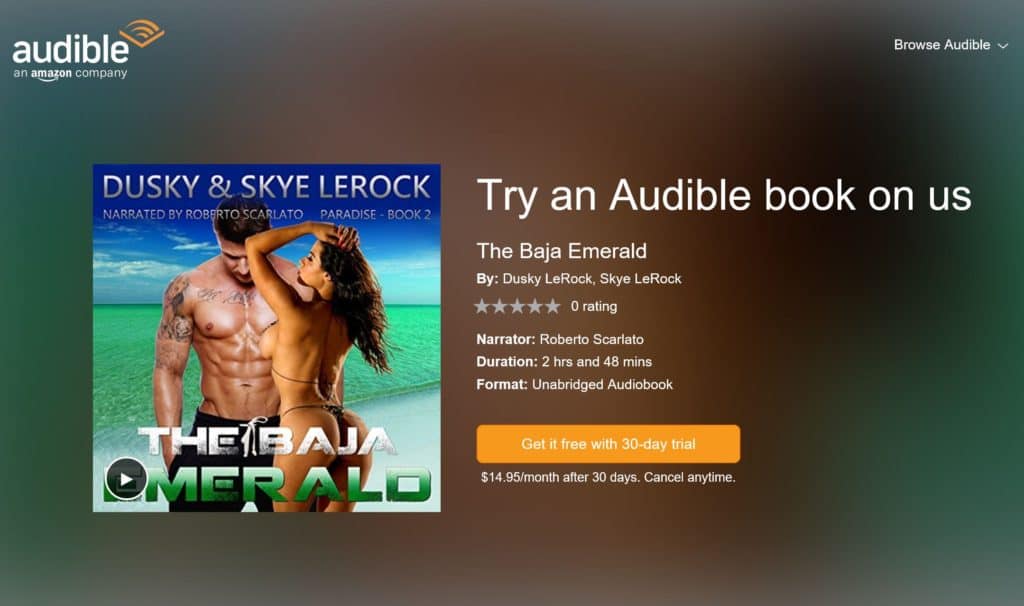 ❤ "Hot porn audible sex in Jamaica – an action packed thrilling story!" ❤
The Baja Emerald #FREE with a 30-day Audible app TRIAL from Amazon
Sign Up for Our Specials and like us on Twitter
If you are looking for obsessed alpha males and females, steamy-hot insta-love and erotic romance that will make your fire burn with desire?  Join our mailing list on our website and get our new scorching hot deals, giveaway's and Kindle eBook melting stories just for you.