Spice up your Reading list with these 21 Erotica Romance eBooks that will Spice up your sexual desires. 21-erotic romance, smutty, well written, seductive reads.
We recommend 21 Erotic romance authors who have mastered the art of erotic reading seduction.  eBooks and books with irresistible alpha males, and dominant females that will pamper your erotic reading desires.
Sex sells.  Long before Fifty Shades of Grey, sex and BDSM made many literary appearances.  Readers beat a trail to the Marquis de Sade sex slave in the Justine, or the Misfortunes of Virtue sadistic portraits, to Sacher-Masoch masochism portrayed in the irresistible, obsessive beauty of Wanda in Venus in Furs.
We are seduced by banned books that delved into the darker sides of our desires. We are fascinated with humiliation, degradation to provocative, and sexually explicit seductive tails with Ménage à Trios of all wickedly naughty forms.
We are obsessed moths attracted to the flame of the taboo.   Fantasies both dark and light, tempting short stories and dark, sultry reads.
We love seductive words that tingle with alluring desire that ignites the flames of passion within us. Words often softening the hardcore erotica that lies in the pages of a well-told story.
In no particular order here are our 21 erotica reads for all mature audiences.  21 Erotica Romance eBooks that will Spice up your Reading list from best dirty romance books to steamy alpha males in Insta-love Ménage stories.
1. The Ghost (Professionals Book 2) by Jessica Gadziala
Sloan and Gunner are amazing in this erotic suspense thriller that will keep you turning the pages.
Gunner is quite the girl's hero in this best dirty romance book!
2. Tropic of Cancer by Henry Miller
Banned for its controversial bohemian sexual content, and the subject of over sixty obscenity lawsuits this American classic is an erotica must read.
The crude language and blatant descriptions of sex will leave you polarized in this chronical of a young American writer in Paris.
Consorting with artists, pimps and their whores with recklessness abandon the rather chauvinistic writer describes his view in graphic detail.
Not for the squeamish or easily offended.
Its sister book, Tropic of Capricorn chronicles Miller's life and sexual exploits in Brooklyn the 1920's. One of the dirtiest romance books/novels around.
You may like this if you are a fan of Bukowski or Hemingway.
3. Owned (Billionaire Banker Series Book 1) Georgia Le Carre
This is dark in an unexpected way!   Billionaire meets penniless seductive stray in a classic damsel in distress story with a contemporary twist.
Ok!  You have got to have at least one 'Billionaire' page turning book on a list. This is it.
4. Pearson (Four Fathers Book 3) by K Webster
Alpha Daddy in a bold taboo story.  Great entertaining graphically vivid, fast read.  Wild, scandalously wicked. Eric Person is unapologetic in his lust for his nubile teenage neighbor Rowan.
5. Blood Red Rose: A Dark Romance (Rose and Thorn Book 1) by Fawn Bailey AKA Isabella Starling
Twisted, obsessed, thrilling erotic action and adventure at its best.  A dark romance, an obsessive itch that needs to be scratched. Not for everyone.
If you enjoy your erotic action and adventure a little on the softer side, you might enjoy the Baha Emerald.
6. The Baja Emerald: Paradise, Book 2 (Unabridged)

audible Audiobook 
By Dusky LeRock & Skye LeRockDirty available On Apple Books and Amazon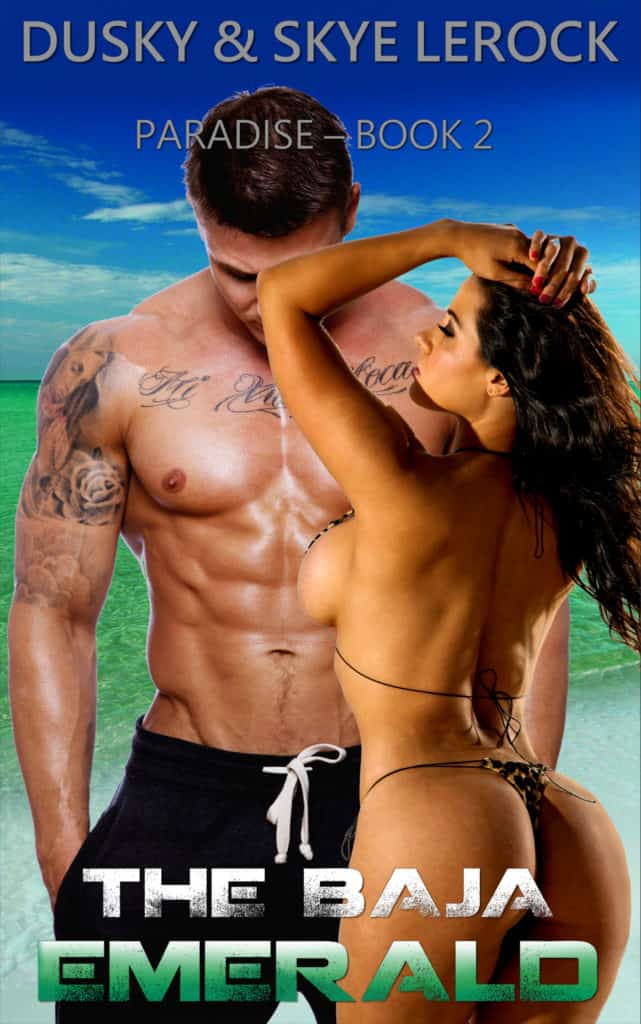 An Italian countess, a mega yacht, and the Baja Emerald go missing in the Sea of Cortez. Edwina "Eddy" Destiny, an exotic, racy Brazilian living in London, is contacted by INTERPOL to solve the mystery of the disappearance and heist.
A beautiful, smart Brazilian beauty; a swaggering, gorgeous billionaire; a smoldering, slim redhead with a sexy East European, new money attitude; and a real-life Bond solve the crime of the stolen Baja Emerald.
This erotic, romantic action and adventure mystery contains: strong woman, billionaire, ménage, oral, taboo, bondage, anal, hot sex, exhibitionism, voyeurism, exhibitionism, group fun, and, interracial erotica that may well be, too hot for the faint-hearted!
An action-packed race against time to save the contessa from three wicked handsome rags-to-riches gigolos before she meets a deadly end on her mega-yacht and the Emerald disappears forever.
A fast-paced contemporary romance, a tale of love, revenge, and tragedy. An action-packed sexually explicit, deliciously erotic, spellbinding listen. A gorgeous investigator, multiple interracial threesomes, and taboo ménage à trois, and just plain wicked sex. A mystery unfolds in the book The Baja Emerald.
When the Mega Yacht Emerald Seas, the Contessa Del Castello, and the Baja Emerald go missing in the Sea of Cortez, a race to find them starts a chain of wickedly naughty, erotic events in this romantic short story, an action and adventure mystery thriller.
You'll love this audiobook if you fantasize about strong women, bondage, sexually charged taboo ménage à trois, steaming interracial sex, sun, sea, sand, and three wicked handsome rags-to-riches gigolos.
THE BAJA EMERALD
Available In Paperback or Kindle
This erotic, romantic, action and adventure, mystery contains: strong woman, billionaire, ménage, oral, taboo, bondage, anal, hot Sex, exhibitionism, voyeurism, exhibitionism, group fun, and, interracial erotica that may well be, too hot for the faint hearted!
7. Hunter: A Snow White Romance by Stasia Black
A uniquely modern take on a classic fairy tales at its hilariously erotic, OMFG, best.  Watch out for the evil stepmother.
Heart pounding action, sizzling chemistry with a HEA ending.
8. The Story of O by Pauline Réage aka Anne Desclos
Classic BDSM. Intense, penetrating, nearly banned!
O makes Ana from 'Fifty Shades of Grey' appear as a cartoon princess, in a children's novel. This is a taboo BDSM sexy book!
This will leave you spellbound, gasping at the passionate love, groaning with each alternating graphic S & M scene.  You will love it or hate it.  It delves far deeper than "Shades."
Originally written in the 50's by a French journalist, it opens up an interesting insight into our ancestor's BDSM delight.
"A truly submissive woman is to be treasured, cherished and protected for it is only she who can give a man the gift of dominance." ~ Anne Desclos
9. The Gentleman's Club: Noire series book 1 by Emmanuelle de Maupassant
Historical romance at its finest in this best romance novel.
A refreshing historic plot that is full of desire seduction and raunchy erotic surprise.  Great Victorian vernacular and social commentary of the hypocrisy of the era.
10. Double Daddies by Madison Faye
Two big daddies who growl into filthy erotic action.   Kenzie's flirtations leads to teasing temptation.  Spankingly good fun, over the top, short story dirty romance book read!
If you have read this book, you might enjoy our latest book Seven a Side with its steamy MFM locker-room sex.
11. Sex Love Repeat by Alessandra Torre
This is the ultimate fucked up love triangle…  They usually end up breaking your heart or completely kinky… Sexy smart and touching from both points of view!
"You are mine,' he grunts out, pumping into me, the length and level of his arousal brutal. 'Mine,' he swears, as he releases my mouth and turns me around, pushing me forward as he yanks my legs back, one hand hard on my back, the other gripping my ass." 
From the best romance books and best romance novels, we turn to the best dirty romance books. The hurt alpha male in dirtiest romance books, dirtiest romance novels with tattooed biker boys.
12.

Motorcycle Man

by Kristen Ashley
Great biker read with steamy alpha male fantasy scenes, rough lusty language, some violence, and lots of banter.  A Ladies book that presents a fantasy world of biker clubs and road rage.
If you have read this, please check out our pilot book Rugged Innocence.
"Dusty, a lone-wolf rugged drifter, his rumbling fat boy burning the black tar, chased by demons, and the chaos of his past stops in the No Name bar for a brew.
Rough, sexy, and heart-wrenchingly powerful an emotional ride that will leave you breathless." 

The Motorcycle Man sets the foundation for The Chaos Series.
Rough Ride: A Chaos Novella book 1
Buy the 4 book bundle  
13. 

Untamed Blackmagic By Dusky LeRock – Sky LeRock
A five star spunky explosive novella.  Quick and dirty.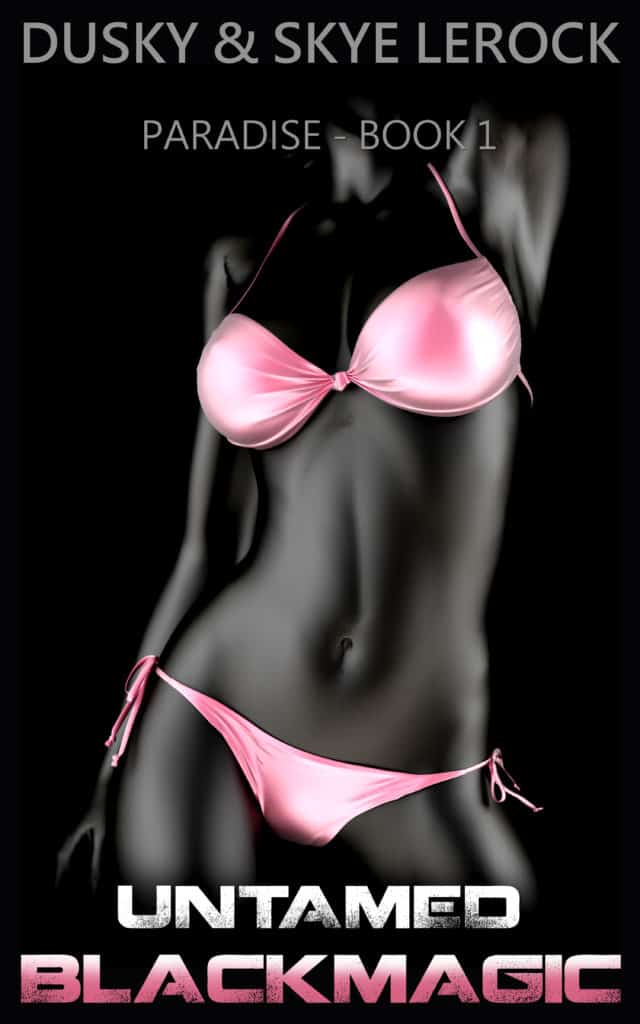 An erotic deliciously filthy, sexually graphic, fast-paced vacation thriller set in a Jamaican paradise. Jane and John eloping, innocent, get swept away with sun, sea, and sex. An extortion network threatens to expose their adventures virally on the internet.
Scorching Sex, Dirty Interludes, Naughty Visuals!
Ashley a blonde, blue-eyed care free petite sex kitten who likes a bit of spicy black magic, and Brad her tall, dark, hunky friend with benefits race to save the day with Pearl; a sizzling hot Caribbean beauty in a skimpy pink bikini.
Scorching sex, dirty interludes, naughty visuals, with a refreshingly modern contemporary plot. Mixed with sexual corruption, thundering boats, suntan oil, and black magic make for an action-packed adventure, set to the beat of reggae.
Sexy Choice Descriptor A paradise retreat, an eloping couple held to ransom, a race to save the day. A fast-paced action-packed sexually explicit, deliciously filthy graphic 'black magic' adventure.
You Will Enjoy This iSteamy Insta-Love, Hot sex book If You fantasize about exotic tall Jamaican men, and skimpy hot long-legged Caribbean girl's in tiny bikinis. This sexually charged action-packed dirty adventure set in Paradise will ruin you with its deliciously sizzling 'black magic.' This erotic, romantic, action and adventure, mystery contains: strong woman, ménage, oral, taboo, anal, hot Sex, erotica, exhibitionism, group fun, interracial erotica that may well be, too hot for the faint hearted! UNTAMED BLACKMAGIC is intended for mature audiences.
If you enjoyed this insta-love short read, you might like our Paradise 2 book series.
14. Emmanuelle by Emmanuelle Arsan. Lowell Bair (Translator) 
Steaming hot stimulating classic erotica.  A must-have for your erotic novel collection.  The movie is dated, but the book!  Oh! It is soft Bangkok fun.
The Erotic language and intense scenes are simply beautiful. The second half can drag on a bit.
15. Dark Stranger The Dream: New & Lengthened 2017 Edition (The Children Of The Gods Paranormal Romance Series) by  I. T. Lucas
Devouring, sizzling, paranormal romance. Far more fun than Twilight. Treat yourself to a provocative sensuous biting read.
Book 1 of the Dark Trilogy.
PARTY SEXCAPADE

 

by Dusky Sky Lerock16. 
Reviewed in the United States on March 24, 2018

Awesome book! I love the Party Sexcapade Series–all the group characters getting together for their "sexcapade," and their own issues. A fast paced story with great spontaneous sex scenes.
A high society party in the heart of Kensington, London brings an erotic group of revelers together for a night.
Embrace your inner voyeur for an 'erotic slam' night. A teasing social dance of Alpha males, oozing with sex and dripping with long-legged coed eye candy, and smoldering gypsy sexiness.
Bad boy Jessie has his wicked way as his Oxford sweetheart Olivia enjoys a surprise. The chemistry between Willow and Ethan boils over, burning with carnal desire as they watch.
PARTY SEXCAPADE
A Pandora's Box of Sensuality.
PARTY SEXCAPADE –

Choice Descriptor
Six smoking hot strangers who lose their inhibitions at a party leads to forbidden intense, steamy sex. A delicious, sensual, breathtaking story with sexually charged voyeurism.
PARTY SEXCAPADE –

You Will Enjoy This Series If
You fantasize about a sexually charged one-night-stand, relinquishing control, and controlling others while watching partners pleasure their sexual desire in an erotic party sexcapade.
This erotic, action, and adventure, insta-love, smut, short story contains: Alpha male, Bad boy, strong woman, oral, hot sex, domination, exhibitionism, voyeurism, erotica that may well be, too hot for the faint hearted
PARTY SEXCAPADE is intended for mature audiences.
17.  Fifty Shades of Grey
Skye and I differ on our personal take for this book.
Skye loved it.  I hated it.
Love it or hate it, E L James has sold over 100 million copies.
The Book is far better than the movie, which left us cringing at the dialogue, waiting for something meaningful to happen.
18. Seven a Side by Dusky and Skye LeRock
Hot alpha rugby males and steamy insta-love sex. Fun, short read. HEA guaranteed in this sexy romance novel.
"Do I need to teach you a lesson?" he growled.
"Oh god.  Yes please."  I teased biting my lip as I looked into his hazel eyes ablaze with lust.
Kia growled, his face a quivering, his body rippling as he moved closer towards me.
Oh, God…"   Read more.
19. The Annotated Lolita by Vladimir Nabokov
A disturbing firebomb of morality.
"Lolita, light of my life, fire of my loins. My sin, my soul."
The opening line in a novel that unnerves.  Lolita explores the tragic relationship between a 37-year-old man's emotional and sexual love affair with a bubble-gum popping prepubescent stepdaughter.
Revisiting Lolita a review by Michael Wood is insightful.
It is a story of dark impulses and tragic irony.  The rest I leave up to you.
20. Juliette by Marquis de Sade
Sadism exemplified in the unrelenting goodness of badness.  Amazing, imaginatively disgusting at times, a sequence of Steamy Insta-Love sexual adventures.
21. Venus in Furs by Leopold von Sacher-Masoch
Severin von Kusiemski obsessive passion for being enslaved and brutalized by the woman he loves becomes a cruel reality.
Wanda von Dunajew, "masochism" creates a roller coaster ride of Steamy Insta-Love Book bondage and submission.
Dusky LeRock and Skye LeRock are authors of eight dirty erotic novellas and one multiple award-winning Amazon best seller, written under their real names.
As a thank you for reading this, please Listen to an Audio Book Free on Us The links are in the article.
Related Stories
Hot off the Press New Erotic Paperback Books