Erotica Romantic Erotic Books by Dusky Skye LeRock, #1 Amazon Erotica  Steamy Insta-Love Authors of Erotic, Erotica Romantic, Dirty Romance, eBooks, on Amazon Kindle, short stories, Audiobook, Free on Kindle Unlimited  and Audible.
Erotica romance books, short insta-love stories with rippling alpha males, sensual heroines shockingly, explicit, eBooks, to get you skyrocketing.
Preview and Buy a
Great Dirty Romance Book today!  
SEVEN A SIDE (Quickies Book 4) 
Haka's hard and wild.
If you've never seen a Haka, you've never come.
Steamy locker room sex. Powerful, sexy babes and hot rippling hard alpha bad boys collide groaning into growling hot action at the world sevens.
Tiffany awakens to her insatiable carnal desires as muscle rippling iron warriors throb inside her.
Cassidy a cowgirl from across the pond scores multiple screaming hot touchdowns as she takes a double ride.
Ethan and Willow are electrifying in an insta-love over water boat rocking erotica romance erotic romance quickie.
Tracy and Stacy two London girls from the wrong side of town "beat and grind" the Seven a Side local team in a roaring round robin orgy of fun.
Dylan and Olivia discover more than just an emoji!
Alpha males, rugby, Haka's and girls make for a multiple steamy partner read.
The Sexcapade series of characters score multiple touchdowns in this tackle, ruck, and maul read. Great hookers (no not that one) are included in this carnival of sexy tumbling fun.
SEVEN A SIDE 

Choice Descriptor
Steamy insta-love at the World Rugby Sevens Championship at Twickenham leads to Haka-raising fantasies.
You Will Enjoy SEVEN A SIDE If…
You fantasize about tough, massive tribal alpha rugby males, and sexy London girls who will show you how it's done then this steamy erotic romance read is for you.
Steamy Erotica Romance Novels for Readers who Like Dirty, Sensual, Hard Romance, Steamy Alpha Males in Insta-love Ménage Stories.
Untamed BlackMagic 
An erotic deliciously filthy, sexually graphic, fast-paced vacation thriller set in a Jamaican paradise. Jane and John eloping, innocent, get swept away with sun, sea, and sex. An extortion network threatens to expose their adventures virally on the internet.
Ashley a blonde, blue-eyed care free petite sex kitten who likes a bit of spicy black magic, and Brad her tall, dark, hunky friend with benefits race to save the day with Pearl; a sizzling hot Caribbean beauty in a skimpy pink bikini. Scorching sex, dirty interludes, naughty visuals, with a refreshingly modern contemporary plot. Mixed with sexual corruption, thundering boats, suntan oil, and black magic make for an action-packed adventure, set to the beat of reggae.
You Will Enjoy This Series If
You fantasize about exotic tall Jamaican men, and skimpy hot long-legged Caribbean girl's in tiny bikinis. This sexually charged action-packed dirty adventure set in Paradise will ruin you with its deliciously sizzling 'black magic.'
This erotic, romantic, action and adventure, mystery contains: strong woman, ménage, oral, taboo, anal, hot Sex, erotica, exhibitionism, group fun, interracial erotica that may well be, too hot for the faint hearted!
The best Dirty, Sexy Slutty, Romantic Erotic Books Online
Romantic Erotic Books,Sensual Novels, Erotica Romance eBooks for a Steamy Read.
Buy the Dirtiest Romance Books Now!
Explicitly Graphic!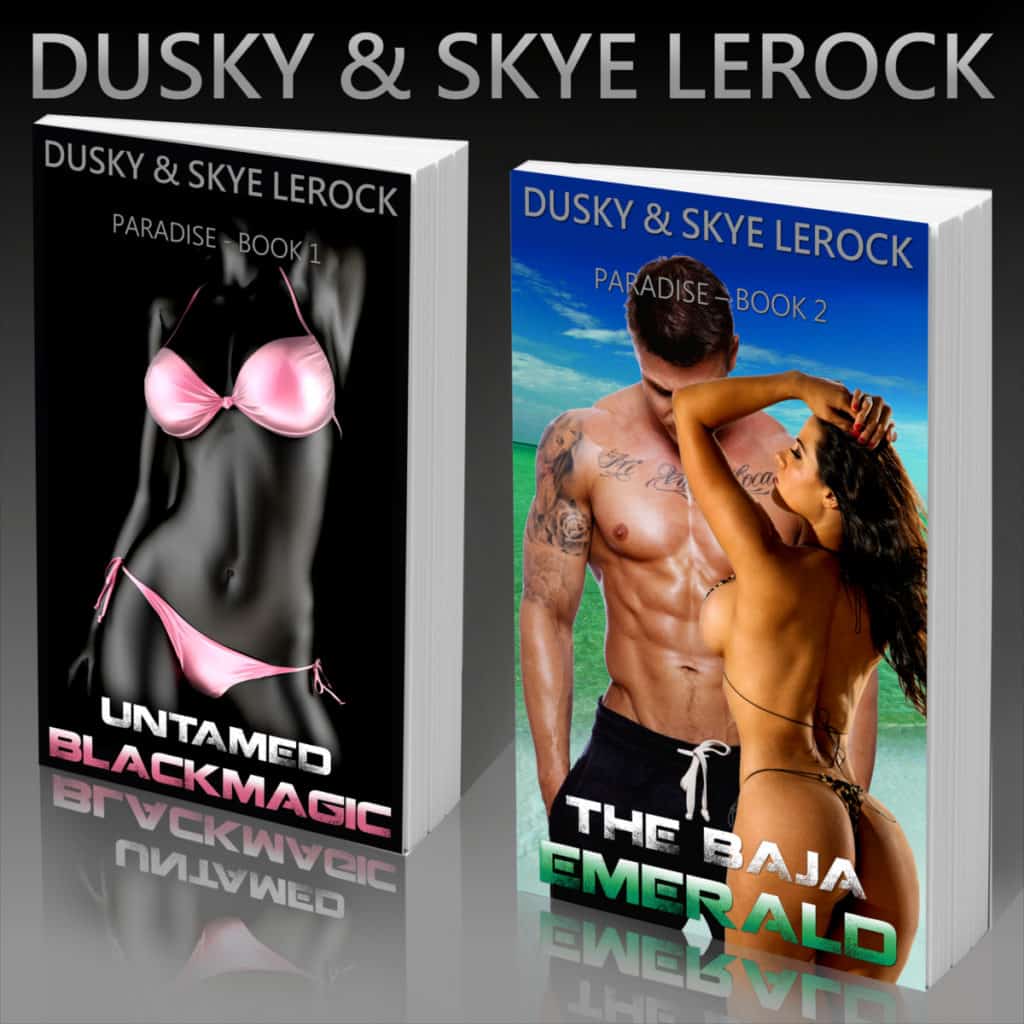 Amazon Author Pages – All eBook, books and Audio Links.
Dusky LeRock – Amazon USA  Amazon UK  Amazon CA  Amazon AU
Skye LeRock  –   Amazon USA  Amazon UK  Amazon CA  Amazon AU
Erotica Romantic Erotic Books by Dusky Skye LeRock – Steamy romance novels for readers who like dirty, sensual, romance, steamy alpha males in Insta-love Ménage stories.
The best Dirty, Sexy, Slutty, Romance Books and Sensual eBooks, Novels, and romance kindle books for a Steamy Wet read.