Listen to our Erotica Romance Audiobooks unabridged to Satisfy your secret intimate desires!  Read our erotica romance eBooks on Kindle Unlimited, and Listen Audiobooks on audible.
Dusky Skye Lerock erotica romance Audiobook FREE with an Audible 30-day TRIAL.  Risk-free from Amazon – Cancel anytime.
If you're looking for an erotic short story to set your imagination on fire and make you vibrate all over, then you're in the right place!
Or listen at Amazon Audible and iTunes – See below for full links.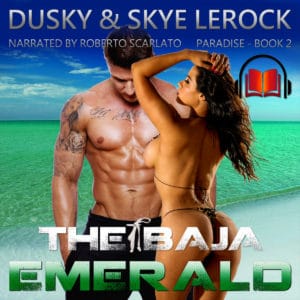 We highly recommend this Erotica Romance Audiobooks
Reviewed in the United States on March 2, 2020
If you want to read a story about a hot blond "Livin' the Vida Loca!" then this story fits the bill. Nothing like hot sex in an exotic location with multiple partners. The hottest Dusky & Skye title I've read! Getting my erotica fix from this author.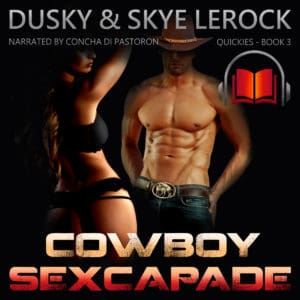 Tired of keeping their fantasies tied up in the bedroom, Skye and Dusky LeRock let their imaginations run wild, with short romantic erotic stories told through the eyes of curious, uninhibited, promiscuous characters.
Shockingly Graphic, they explore sexual cravings, dark erotic dreams, wicked sexual desires,secret, taboo subjects that will set the pages on fire.  Explicit sensuous words that create powerful images to rock your world.
They Aim to fulfill your erotic cravings through tales that make you explode with desire. Or read and listen to Untamed Blackmagic.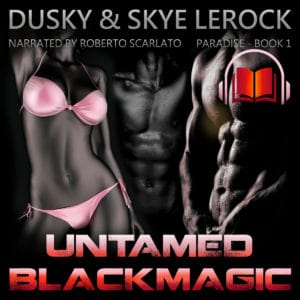 Reviewed in the United States on March 27, 2018
When Brad and Ashley go on vacation and run into John and Jane, who are there to elope, an elaborate blackmailing plot is discovered. This erotic mystery unfolds along with plenty of descriptive, adult play time.
Adults only and 18+
Dusky Skye LeRock Audible audio book Author page 
Untamed Blackmagic Paradise – Book 1  by Dusky and Skye LeRock
Roberto Scarlato (Narrator)

5.0 out of 5 stars  Ashley desires Bamboo Juice!  Avid Reader

"Hot sex in Jamaica! And to top it off is about any type of activity one can imagine. I enjoyed the little chase, with romps mixed in, of Brad and Ashley as they busted a criminal network that used sex to extort tourist. I would have liked to see Ashley taste the "Big Bamboo" juice and take on more "Big Bamboo!"
5.0 out of 5 stars A descriptive erotic book with an underlying plot! Fun read! 
Lisa's Book Reviews

Cowboy Sexcapade by Dusky and Skye LeRock
Concha di Pastoro (Narrator)
THE BAJA EMERALD: Paradise – Book 2 by Dusky and Skye LeRock
Roberto Scarlato (Narrator)
5 out of 5 stars Getting my erotica fix!  Avid Reader
Read more about our  ROMANTIC EROTIC BOOKS