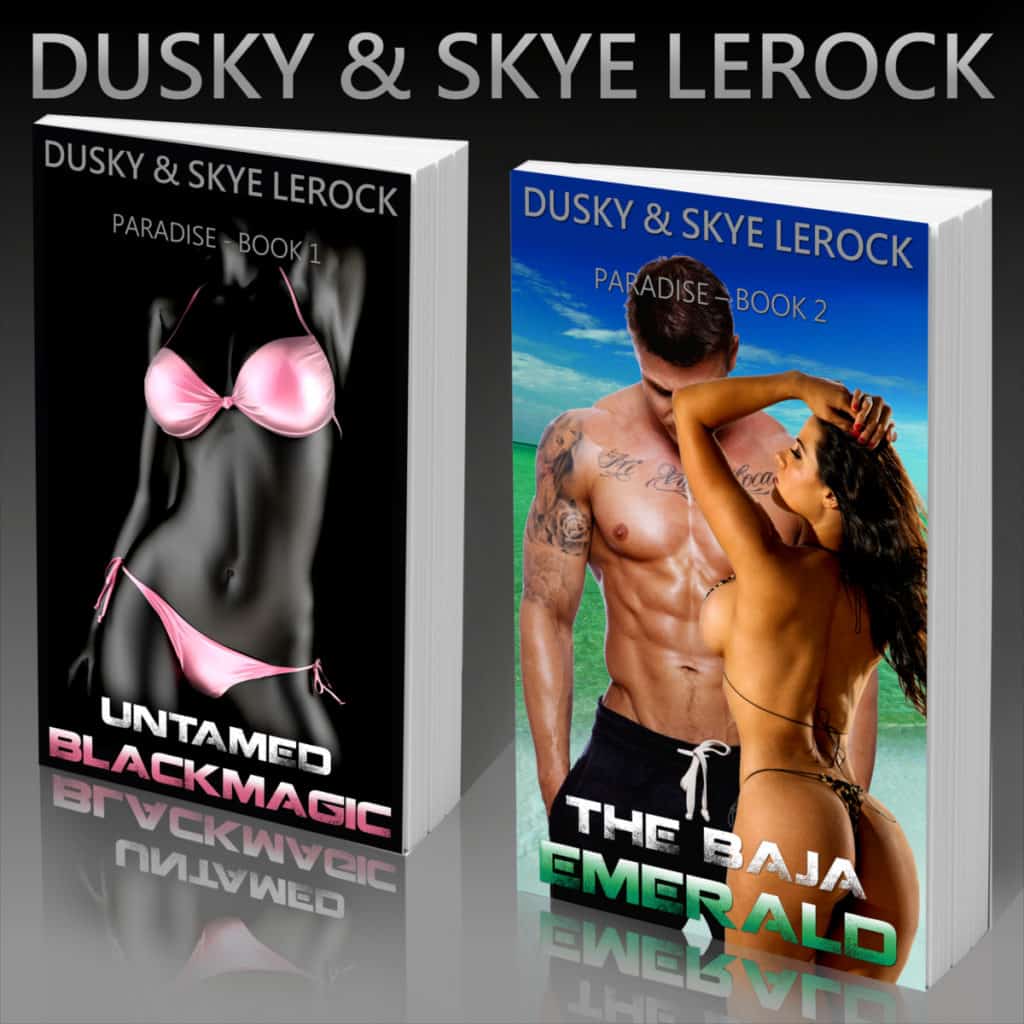 Hot off the Press New Erotic Paperback Books from erotica romance thriller authors Dusky LeRock and Skye LeRock.  The  Paradise series is now available in  paperback book form, from Amazon.
We now have paperback books to go with our eBook Kindle erotic short stories, and Audible audio books.
The Paradise series of Dirty Romance Novels are vulgar, intelligent prose packed with action and adventure.  Erotic literature with heart-wrenching romance all wrapped up in brusque reads that explore the adventure of some of the darker sides of sexual fantasy, so proceed with caution.
These novellas original storylines are full of steamy-hot insta-love and erotic romance, heartache, and lust, peppered with mind blowing sex, that is truly raw and lovely.
UNTAMED BLACKMAGIC  Paradise – Book 1
A thriller of a treasure hunt to find the blackmailers before all is revealed on the internet.
Brad, a modern-day bond inspired alpha male armed with a laptop, and Ashley his blonde, blue-eyed, carefree, petite sex kitten friend with all the benefits get swept away in the race to stop the J-J's naughty three-some video from going viral.
With a little help from there Caribbean girlfriend Perl and the Blackmagic they thunder across the waves to save the day.
Ashley moans panting on a Big Bamboo, her instant-love fantasies reamed deep by black magic.
Perl, Brad and Ashley grind into a fiery hot ménage à trois of suntan oil, and rocking boats.  FFM interracial sexual fun that will have you reaching for your iced-tea to cool you down.
Strong female characters steamy-hot insta-love and erotic no hold bared romance inflame the pages in a quest to solve the extortion mystery.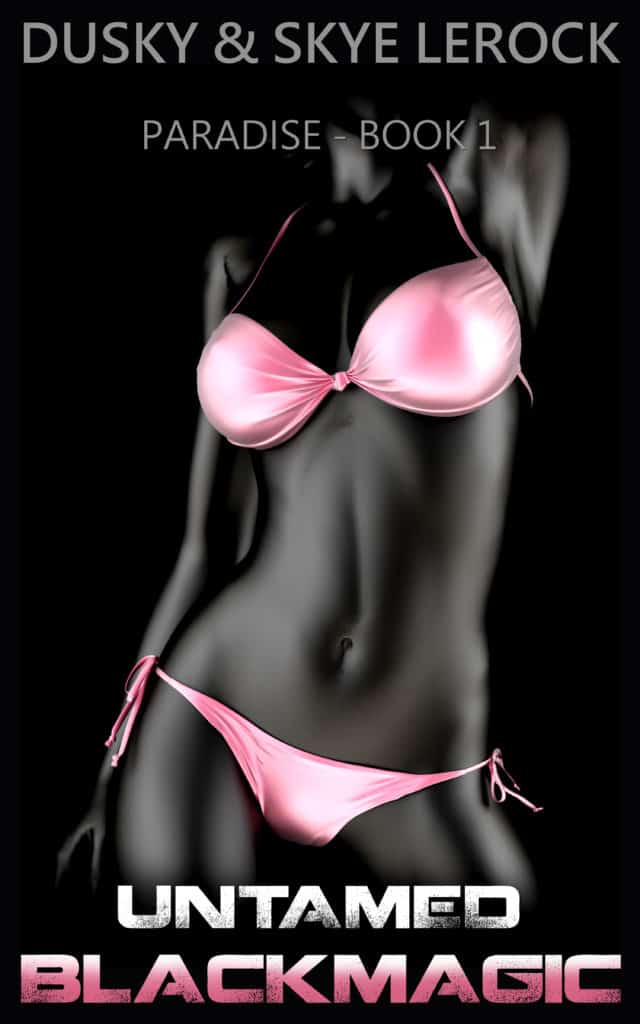 THE BAJA EMERALD Paradise – Book 2
A delicious, thriller set over 24 hours follows the Heroines led by Edwina "Eddy" Destiny the heroic Detective Inspector from INTERPOL, race to save The Contessa Del Castello from the three wickedly naughty gigolos and find the Baja Emerald.
The obsessed Tres Amigos, alpha males, Antonio a smoldering hunk of muscle, with intense smoky dark eyes, and Miguel a ripped, rebel have their wicked way with the Contessa, whilst Ricky 'El vigilante,' the watcher observes the delicious exploration of her heart and body.
David Cole a buffed multi-millionaire genius and one off the most eligible bachelors in the Silicon Valley, melds, growling into Eddy till the electricity explodes in a bombshell of passion.
We now have paperback books and audio books to go with our Kindle erotic short stories.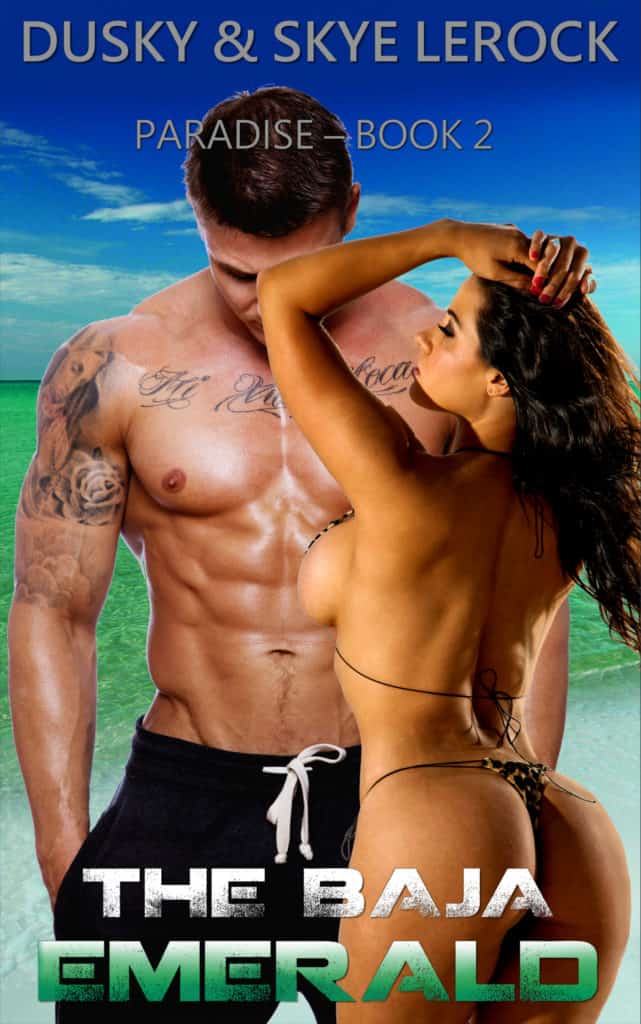 THE GHOST OF BERLIN (working title)  Paradise – Book 3
The Ghost of Berlin is exploding off the pages in production.  A Dan brown style thriller, action and adventure story that brings all the book characters together in a conspiracy theory that will blow your mind and rock your soul.
We will be selling an Unabridged no holds barred erotic version and an abridged version for the romantic fluttering heart.
Join our mailing list
If you are looking for obsessed alpha males and females, steamy-hot insta-love and erotic romance that will make your fire burn with desire?  Join our mailing list on our website and get our new scorching hot deals, giveaway's and Kindle eBook melting stories just for you.