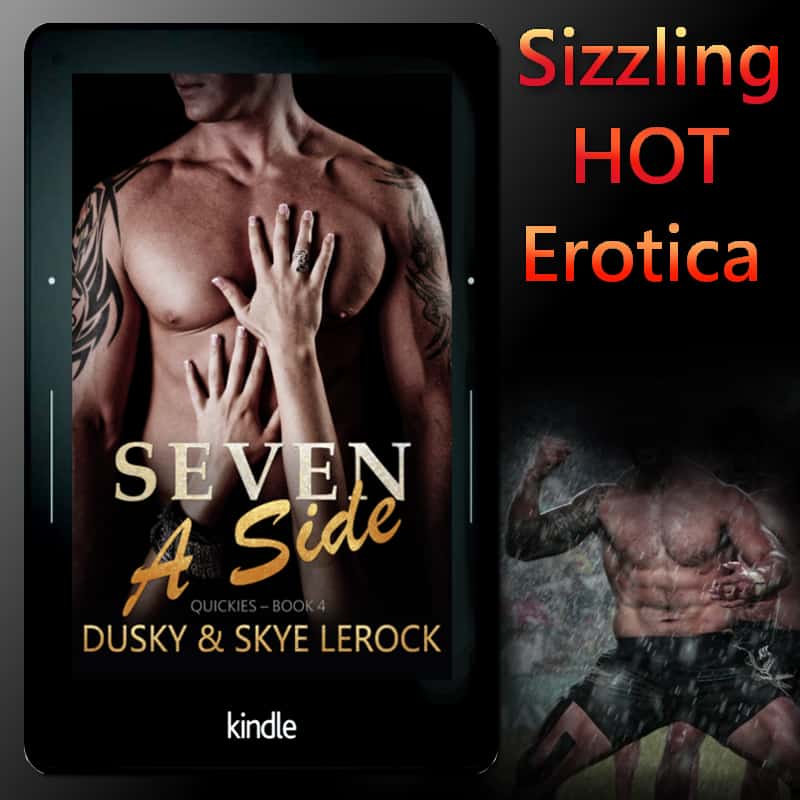 Wild Alpha Rugby Males? ✔ 
Hard Throbbing Haka's? ✔
sizzling hot erotica?  ✔
HEA Ending ✔ 
"This book rocked my world… Breathtaking!" – Erotica Lit Chick Blog
SEVEN A SIDE, the fourth book in the Quickies book collection of sizzling hot erotica romance thrillers from authors Skye LeRock and Dusky LeRock.
This wild grinding alpha male packed explosive short story takes place at the World Rugby Sevens Championship at Twickenham.  Steamy sizzling hot erotica insta-love leads to Haka-raising wild growling, fantasies that will grind your erotic fire into an explosive end.
Tiffany drools over the steamy instant-love haka's till she comes in a raw tribal alpha rugby male fantasy.
Excerpt
She feels, the beating raw carnivorous strength of their tattooed chiseled bodies pinning her under their probing cocks.
"Oh, fuck," she moans for all to hear.  Her ecstatic groans and sighs lost in a multitude of clashing, exciting sounds.
"Wur-thump," the All Blacks stamp their feet defiantly.
She moans lustfully wobbling up against Cassidy.
She imagines, their engorged bodies wildly ravishing her, taking her without remorse.  They engulf her together with their magnificent cocks throbbing against her body, twitching dribbling cum.
She feels, her lips wrapped around hard cocks.  Hands and fingers probing through her hair.  Fingers and cocks pushing in her fine ass.  She gasps groaning as her hand's clasp, wrapped, rubbing thick cocks.  Her heart thunders in her ears building up to a trembling heated explosion.
The crowd begins to stomp as Tiffany collapses, orgasaming to the ground, her red dress riding high up her smooth soft thighs revealing her lacy red knickers.
Tiffany trembles moaning as she feels, hot thick cum exploding into her body, over her face and breasts.  Warm strings of thick sticky cum cover her.  Her orgasm explodes buzzing through her tingling body, hot butterfly kisses caress her trembling nerves.
Cassidy leans casually over Tiffany's quivering body, tipping her Stetson hat she whispers.
"Save a horse, ride a Kiwi!"
Cassidy collides with two rippling hot alpha male tattooed bad boy rugby forwards in a hot and icy, spanking BDSM locker room encounter.
Ethan and Willow rock the boat in this erotica romance fun quickie carnival of sexy rugby player tumbling scrummage of fun.
Tracy and Stacy two lively London girls, twins with ponytails try a bit of MMMF and some MMMMF scoring multiple rippling hot touchdowns, before they win the game.
Explosive Sex!
Sizzling Hot Erotica !
Dylan the cowboy from Phenix falls in love with Olivia his Oxford sweetheart.
Chiseled abs, alpha males, rugby, Haka's, and dominant girls make for an intoxicating read.
The Quickies series of erotic book characters ruck, tackle, and maul there way through this engaging red hot read.
Steamy locker room sex.  Powerful, sizzling hot erotica, sexy babes ride hot rippling hard tattooed alpha bad boys groaning into action.
You will enjoy this book if you need a quick fun humorous electrifying insta-love read.
HEA guaranteed.
Are you looking for sizzling hot erotica, obsessed rippling hard alpha males and electrifying females, steamy-hot insta-love and erotic romance that will make your fire burn with desire?
If yes join our mailing list on our website and get our new hot deals, giveaway's and Kindle eBook, melting stories just for you.
Check out our sizzling hot erotica catalog, only on Amazon and always FREE with your Kindle Unlimited subscription or Audible!
We also have sizzling hot erotica paper backs for those who like to savor the smell of paper oiled between sweaty fingers and dog-ear corners.
Wild Alpha Rugby Males? Hard Throbbing Haka's? HEA Ending " SEVEN A SIDE, sizzling hot erotica romance short storie from authors Skye LeRock and Dusky LeRock. Steamy insta-love leads to Haka-raising fantasies that will grind your erotic fire into an explosive end. Read an Excerpt