Imagine you are one of Dusky LeRock Skye LeRock

Sizzling Hot Erotica Book Characters!  Or Just Watching!  Erotica at its best!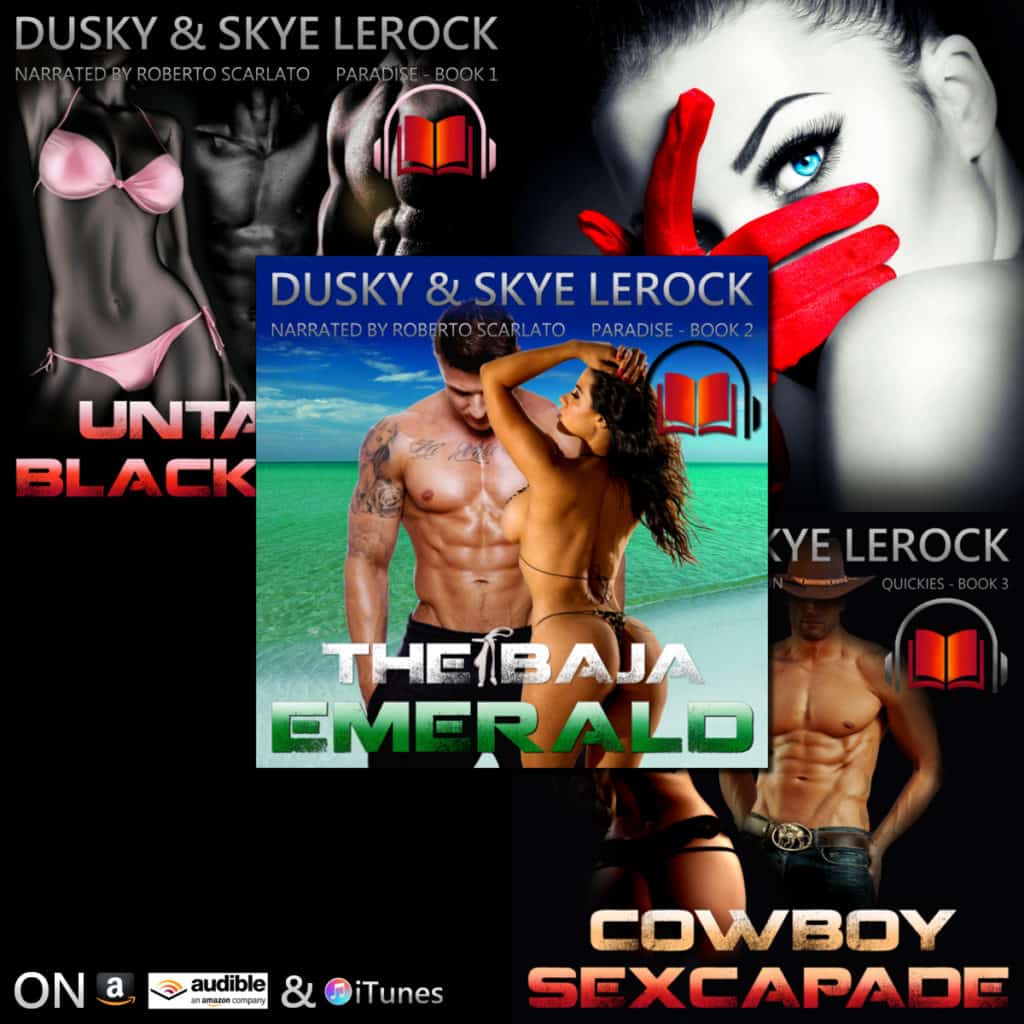 Paradise Series – "Off the Chart Alpha Male Erotica! Taboo insta-love!!!"

A sizzling Hot Erotica Book Series with steamy intrigue, erotic action-packed adventure in exotic locations hard packed with insta-love romance. Mystery, Thriller & Suspense books set in exotic locations.
This erotic, romantic, action and adventure, mystery series of eritic books, erotic ebooks, and audible books contains: strong possessive woman, dominant billionaires that get eroticly ravaged, group fun, and, interracial erotica that may well be, too hot for the faint hearted!
💖 Multi-cultural 💖 Erotic Romance 💖 Steamy 💖 Dual V 💖  In
"The Baja Emerald erotic audible, is like Bond on steroids, steamy Insta action erotica with a great story."
Quickie Series – "Scorching-hot Taboo Short Stories!"
Do you remember the first time you had a crazy, steaming hot, Sizzling Hot Erotica books erotic sex? The taboo kind; instant-action, dark, steamy sex with a total strangers!
💖 Throbbing 💖 Hard 💖 Primeval 💖 Erotica Books and Ebooks 💖 
"One word to describe this erotica romance series Uncivilized. ..PRIMAL…Insanely, scorchingly primal." 
"SEVEN A SIDE – Haka's hard and wild."
The Road Series – "Wild, Wicked and Willfully Naughty!" 
Tough sexy bad boy bikers; underneath the armor of muscles and tattoos, are sensitive, wounded, hot guys ready to ride you to mind-blowing sex! 
Dusky & Skye LeRock Sizzling Hot Erotica Books, erotic eBooks and erotic Audio books:
Rippling hot alpha heroes, cowboys, Tough, sexy Bad Boys put out the fire in this steamy erotica series of ebooks teaming with fire… It will take a stamped of erotica hot reading. 
Skye and Dusky LeRock let their imaginations run wild, with short romantic stories told through the eyes of curious, uninhibited, promiscuous characters.
Shockingly graphic, they explore cravings, dark erotic dreams, wicked desires,  subjects that set the pages on fire.  Explicit sensual erotic books that will rock your world.
They aim to fulfill your erotic cravings to make you explode with desire.
💖 Graphic 💖 Streamy 💖 Primeval 💖 Erotica Books, Ebooks, Audible l 💖
"Bold, erotic and astoundingly unique. Hands down one of the throbbing road books I've read all year."
"Taboo! Sun, Sea, Sex, & Sand.  Erotica to get your rocks off."
"Drop your panties, prepare for mind-blowing erotic stimulation!!!"
"Guys get ready to be rock hard, and explode into oblivion."